EIN Presswire | Newsmatics
Learner Net Introduces AI Assistant Builder: A New Era for Tutors in Social Learning
News provided by
EIN Presswire
Nov 21, 2023, 7:21 AM ET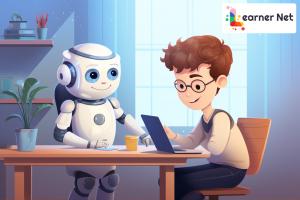 Empowering educators with the future of teaching! ? Discover Learner Net's AI Assistant Builder - your tool to create personalized, AI-driven learning experiences.
Discover how Learner Net is bridging the gap between human expertise and artificial intelligence to create a dynamic and interactive social learning experience.
What all of us have to do is to make sure we are using AI in a way that is for the benefit of humanity, not to the detriment of humanity."
— Tim Cook
SINGAPORE, November 21, 2023 /
EINPresswire.com
/ -- In an ambitious move to redefine educational engagement,
Learner Net
has announced the launch of its cutting-edge AI Assistant Builder, specifically tailored for tutors in the burgeoning field of social learning.
This pioneering tool allows educators to craft a digital teaching assistant with customization options. Tutors can now build an AI Assistant that not only resonates with their teaching methodology but also embodies a personalized touch for their students.
Customizable Features for Personalized Education
The AI Assistant Builder boasts an array of features that promise to bring a tutor's digital presence to life:
AI Assistant Name: Tutors can choose a distinctive name that students will recognize and associate with their unique teaching style.
Knowledge Base URL: By linking to a specific webpage, tutors can direct the AI to absorb information, transforming it into a knowledgeable entity ready to assist students.
Knowledge Instructions: This feature allows tutors to infuse the AI with tailored teaching directives, enhancing its capability to address specific educational needs.
Persona Instructions: The AI's personality can be sculpted to mirror the tutor's approach, ensuring consistency in student engagement.
Greeting Message: The first interaction between students and the AI Assistant is set with a custom greeting, establishing a warm and inviting educational atmosphere.
Avatar Image: A visual representation is selected to give the AI Assistant a relatable and approachable identity.
A Focused Launch with a Vision for Expansion
Initially catering to the needs of tutors, the AI Assistant Builder is poised to revolutionize the way educators interact with and support their students. Learner Net envisions this tool as the first step in a broader strategy to encompass students and parents, ultimately creating a comprehensive social learning environment.
Insights and Perspectives: The Learner Net Blog
For those intrigued by the potential of AI in education, Learner Net's latest blog article, The Future of
Learning;
Navigating the Intersection of AI and Social Learning
, offers a deep dive into the subject. The article outlines the transformative impact of AI Assistants on traditional social learning frameworks, highlighting the synergistic relationship between technology and human interaction. It explores the role of AI in personalizing education, enhancing collaborative learning, and extending the global reach of educational communities.
Invitation to Embrace the Future
Learner Net extends an invitation to educators worldwide to experience the AI Assistant Builder and integrate it into their teaching practices. This tool is more than just a technological advancement; it's a new ally in the mission to educate and inspire.
For more information or to schedule an interview, please contact Learner Net at
https://www.learner.net/contact
.
About Learner Net
Learner Net is dedicated to enhancing the educational journey through innovative technology. With a focus on social learning and community engagement, Learner Net is committed to developing tools that support educators, engage learners, and connect families.
Discover More at:
https://www.learner.net
Subscribe
at:
https://www.learner.net/subscribe
Learner Net Marketing
Learner Net
+65 3129 4377
email us here
Visit us on social media:
Facebook
LinkedIn
Instagram
YouTube
TikTok
NOTE: This content is not written by or endorsed by "WDHN", its advertisers, or Nexstar Media Inc.
For inquiries or corrections to Press Releases, please reach out to EIN Presswire.