GlobeNewswire
HAGENS BERMAN, NATIONAL TRIAL ATTORNEYS, Encourages Investors with Substantial Losses to Contact Firm's Attorneys Before Nov. 28th Deadline in Securities Fraud Lawsuit
Investors Allege Medical Properties Trust (MPW) Concealed that Prospect Deal Was Put on Hold- Hagens Berman
News provided by
Hagens Berman Sobol Shapiro LLP
Nov 20, 2023, 12:08 PM ET
SAN FRANCISCO, Nov. 20, 2023 (GLOBE NEWSWIRE) -- Hagens Berman urges Medical Properties Trust, Inc. (NYSE: MPW) investors who suffered substantial losses to submit your losses now.

Class Period: May 23, 2023 – Aug. 17, 2023
Lead Plaintiff Deadline: Nov. 28, 2023
Visit: www.hbsslaw.com/investor-fraud/MPW
Contact An Attorney Now: MPW@hbsslaw.com
844-916-0895
Medical Properties Trust, Inc. (NYSE: MPW) Securities Fraud Class Action:
The litigation focuses on the propriety of Medical Properties Trust's statements about its recapitalization transaction ("Recap Transaction") with its third largest tenant, Prospect Medical Holdings.
The complaint alleges Medical Properties Trust misrepresented and failed to disclose that: (i) the Recap Transaction was subject to regulatory approval and (ii) on or about July 20, 2023, the company had received an order from the California's Department of Managed Health Care ("DMHC") placing the transaction on hold.
Investors learned the truth on Aug. 18, 2023, when the Wall Street Journal reported on Medical Properties Trust and, referring to the Recap Transaction, said that "[t]he nation's largest hospital landlord said an unusual transaction that provided crucial financial support for one of its biggest tenants was a done deal[]" and "[i]t wasn't." The WSJ further reported that on Aug. 8, 2023, the company said the transaction boosted its revenue while in possession of an order by a California state regulator putting the transaction on hold and observed that Medical Properties Trust did not disclose the regulator's order when it filed its quarterly earnings report.
In response, the price of Medical Properties Trust shares fell significantly lower on Aug. 18, 2023.
"We're focused on investors' losses and investigating whether senior management had a duty to disclose the California regulator's hold order," said Reed Kathrein, the Hagens Berman partner leading the investigation.
If you invested in Medical Properties Trust and have significant losses, or have knowledge that may assist the firm's investigation, submit your losses now »
If you'd like more information and answers to frequently asked questions about the Medical Properties Trust case and our investigation, read more »
Whistleblowers: Persons with non-public information regarding Medical Properties Trust should consider their options to help in the investigation or take advantage of the SEC Whistleblower program. Under the new program, whistleblowers who provide original information may receive rewards totaling up to 30 percent of any successful recovery made by the SEC. For more information, call Reed Kathrein at 844-916-0895 or email MPW@hbsslaw.com.
About Hagens Berman
Hagens Berman is a global plaintiffs' rights complex litigation law firm focusing on corporate accountability through class-action law. The firm is home to a robust securities litigation practice and represents investors as well as whistleblowers, workers, consumers and others in cases achieving real results for those harmed by corporate negligence and fraud. More about the firm and its successes can be found at hbsslaw.com. Follow the firm for updates and news at @ClassActionLaw. 
Attorney advertising.
Past results do not guarantee future outcomes.
Services may be performed by attorneys in any of our offices.
Contact:
Reed Kathrein, 844-916-0895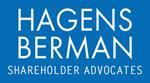 NOTE: This content is not written by or endorsed by "WDHN", its advertisers, or Nexstar Media Inc.
For inquiries or corrections to Press Releases, please reach out to GlobeNewswire.