Good morning, I'm Dan Gartland. I just feel terrible for Joseph Ossai.
In today's SI:AM:
🔮 Way-too-detailed Super Bowl predictions
🦅 How the Eagles built a winner
🐅 Inside the Bengals' locker room after that costly penalty
If you're reading this on SI.com, you can sign up to get this free newsletter in your inbox each weekday at SI.com/newsletters.
This is going to be a good one
After a pair of games that were dramatic for opposite reasons, this year's Super Bowl matchup is set. It'll be the Chiefs against the Eagles on Feb. 12 in Arizona.
The drama in the NFC game was the 49ers' unbelievably bad luck. San Francisco's smothering defense had propelled it to the conference title game with a third-string rookie seventh-round pick as the quarterback leading the offense. But when that quarterback—Brock Purdy—went down with an elbow injury in the first quarter, the Niners were faced with the prospect of trying to earn a trip to the Super Bowl with journeyman Josh Johnson under center.
And when Johnson was concussed in the second quarter, leaving the Niners with no healthy quarterbacks, it was clear they were cooked. Kyle Shanahan's claim to fame has been coaching up quarterbacks with perceived flaws (like Purdy and Jimmy Garoppolo), but there's nothing you can do when you don't have anyone capable of throwing an NFL-caliber pass. They were forced to go back to Purdy, who said after the game that he couldn't throw the ball more than five or 10 yards. He threw just two dump-off passes after reentering the game as the Niners tried to get creative with the run game, to no avail.
After the game, San Francisco tight end George Kittle summed it up thusly:
"How does it feel to lose in an NFC championship game because I don't have a quarterback? Pretty s---ty, to be honest. Yeah, that's about it."
It's a shame that the injuries prevented the 49ers from getting a fair shot at a Super Bowl berth, but that's football. And take nothing away from the Eagles. Their defense, even before San Francisco was forced to become one-dimensional, was excellent for the second straight week. On the other side of the ball, Philadephia was able to control the line of scrimmage against the 49ers' front to the tune of 31 points.
The late game was also defined by an injured quarterback, except Patrick Mahomes, playing through a high ankle sprain, was excellent in leading the Chiefs to their third Super Bowl appearance in four years.
Mahomes was clearly hampered by the injury, limping at times and remaining in the pocket more than we're accustomed to seeing. But he still got the better of Joe Burrow in the latest installment of what will hopefully be a great rivalry. Mahomes completed 29 of 43 passes for 326 yards and two touchdowns in a shootout. (Both teams had more than twice as many passes as rushing attempts.)
The Chiefs gave Burrow a chance to add to his increasingly impressive playoff résumé, when they punted on fourth-and-8 from the Cincinnati 37. But the Kansas City defense stood tall and forced a punt, giving Mahomes one last chance. The game appeared to be headed to overtime until Mahomes scrambled for a five-yard gain in the closing seconds of regulation and was hit out of bounds by Bengals defensive end Joseph Ossai. The 15-yard penalty set up a 45-yard field goal attempt for Harrison Butker, which he converted to win it.
It's almost impossible to have a more costly penalty, but Michael Rosenberg was in the Bengals' locker room after the game, and none of Ossai's teammates were blaming him for the loss.
The Eagles and Chiefs took very different paths to get there, but the end result is an enticing Super Bowl matchup between the top team in each conference. A second Super Bowl win in four years would ignite dynasty arguments about the Chiefs. And for the Eagles, winning a second Super Bowl in six years, with a completely different core, might be even more impressive. It'll be a long two weeks waiting for the game to finally arrive.
The best of Sports Illustrated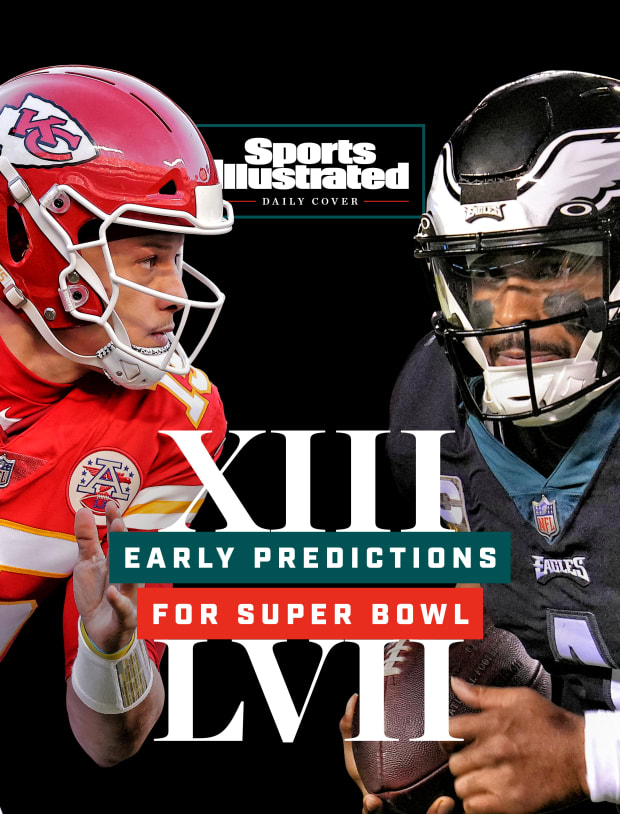 The top five...
… moments from the conference title games:
5. Christian McCaffrey's touchdown run, featuring a whole bunch of broken tackles.
4. Bryan Cook's deflection to set up Joshua Williams's interception.
3. Joe Burrow's touchdown pass to Tee Higgins and Chad Johnson's reaction to Higgins's catch.
2. Patrick Mahomes's frozen rope to Marquez Valdes-Scantling.
1. Travis Kelce interrupting Mahomes's postgame interview to yell, "Burrowhead, my ass!" and then calling the mayor of Cincinnati a "jabroni."
SIQ
The Rams beat the Titans in Super Bowl XXXIV on this day in 2000, when Tennessee's Kevin Dyson was famously tackled just shy of the goal line as time expired. Which St. Louis defender made the game-winning stop?
Mike Jones
London Fletcher
Keith Lyle
Grant Wistrom
Friday's SIQ: As speculation swirls about Tom Brady's future, let's turn back the clock to his first conference championship game. On Jan. 27, 2002, the Patriots upset the Steelers to punch their ticket to the Super Bowl, where they would knock off the Rams to complete their fairy-tale story. How many passing yards did Brady have in Pittsburgh?
Answer: 115. He left the game after spraining his ankle late in the first half, and Drew Bledsoe led the Patriots to victory.
The legend of Tom Brady and that 2001 Patriots team has been repeated so often that some of the details get forgotten. For instance, what was the injury that sidelined Bledsoe and paved the way for Brady to take over? It was a sheared blood vessel in Bledsoe's chest that filled his chest cavity with blood and kept him in the hospital for four days. By the time he was released, he had lost 20 pounds. Third-string quarterback Damon Huard said Bledsoe looked "practically ghostlike" when he returned to the team facility.
With that context, it's remarkable that Bledsoe was able to return to the field and even more remarkable that he was prepared to lead his team to victory in the playoffs in his first game action in four months against the league's most dominant defense.
Brady, of course, was healthy enough to play in the Super Bowl a week later, but Bledsoe's performance raised some questions about the future of the Patriots' quarterback situation.
"Before Sunday it was presumed that Bledsoe would be traded after this season," Michael Silver wrote in SI after the Steelers game. "That's less certain now; what's clear is that Bledsoe, by supporting Brady and keeping his frustration to himself, retained his popularity in the locker room."
The Patriots made the right call and traded Bledsoe to the Bills after the season, but it's stunning to think they considered keeping him and returning Brady to his backup role.
Sports Illustrated may receive compensation for some links to products and services on this website.